Burger King: $0.25 for Small Coffee (Until Mar 10)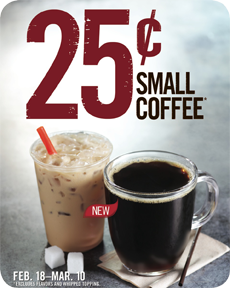 Burger King celebrates new coffee blend with 25 cent promotion. You can enjoy a small (12oz) Smooth Roast Coffee at Burger King for only 25 cents! This promotion is valid until March 10, 2014 at participating Burger King Restaurants.
This is Burger King's attempt to get a piece of the lucrative coffee business. McDonald's and most fast food restaurants are trying to take market share away from Tim Horton's and Starbucks.
Calling all coffee lovers! Burger King Worldwide (NYSE: BKW) invites you to revitalize your mornings, or give your afternoon a boost with a delicious cup of BK® Smooth Roast Coffee at a great price. Now through March 10th, BURGER KING® restaurants are offering guests a freshly brewed 12-ounce cup of its NEW, custom 100 percent Latin American arabica bean blend for just 25 cents at participating locations nationwide.
Click here to visit Burger King's website for more details about this offer.
Click here to find a Burger King restaurant near you.