Knetgolf.com: Extra 15% Off All Golf Balls Coupon Code (Until Mar 11)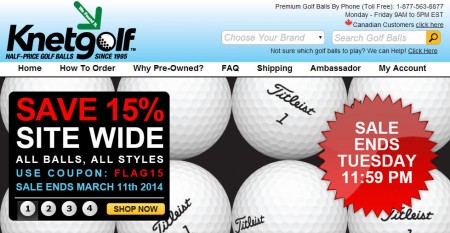 You can save an extra 15% off all golf balls at Knetgolf.com when you enter the coupon code FLAG15 at checkout! The site wide sale is available on all balls, all styles until March 11, 2014. This is a very good deal because most of the golf balls at Knetgolf is 50% to 80% off below retail prices!
I'm an avid golfer and this is where I buy all my golf balls. I usually save around 75% off retail prices. For the last 4-5 years, I buy around 6 dozen balls at the start of the year and stock up for the entire golfing season. I recommend th "Mint Recycled" or "Grade A Recycle" if you want balls that are "Like New".
Knetgolf.com is one of the best golf deals that I know. They have a massive select of balls and carry every brand of golf balls that you can think of (Ie. Nike, Callaway, Titleist, Taylor Made, etc..). I was a bit sceptical buying used golf balls at first, but you can hardly tell they are used and you save a ton of money. Knetgolf sells over 20 million golf balls to 300,000 customers a year and offer a 100% satisfaction guarantee.
Knetgolf offer free shipping on orders over $129 or charge $9.99 for standard shipping.
Click here to shop KnetGolf.com now or for more details about this sale.