P&G brandSAVER: Pampers Diaper and Wipes Coupons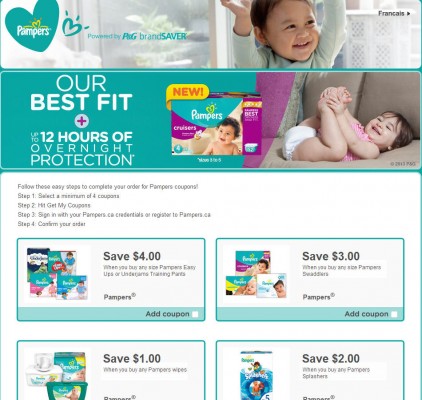 P&G brandSAVER is offering 8 new coupons on their website including Pampers Diaper and Wipe coupons!
Here's a sample of the following Pampers coupons that you can find:
Save $4 when you buy any size Pampers Easy Ups or Underjams Training Pants.
Save $3 when you buy any size Pampers Swaddlers.
Save $1 when you buy any Pampers wipes.
Save $2 when you buy any Pampers Splashers.
The coupons will be mailed to you free of charge. Please allow 2 to 3 weeks for delivery. Please note there will be a limit of one coupon request per postal mailing address per offer. Your coupons will be sent to the mailing address confirmed when placing your order.
Follow these easy steps to complete your order for Pampers coupons!
Step 1: Select a minimum of 4 coupons
Step 2: Hit Get My Coupons
Step 3: Sign in with your Pampers.ca credentials or register to Pampers.ca
Step 4: Confirm your order
Click here to request your free Pampers coupons.
Click here to visit my other site `BabyMomDeals.com`for more Baby & Mom deals, freebies and coupons.