Last Chance: Groupon – Extra 15% Off Events and Activities Deal Promo Code (Sept 26-27)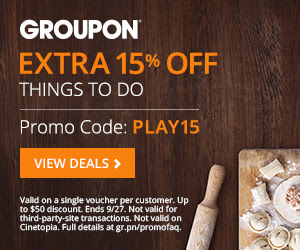 Last Chance Reminder: I originally posted about this deal yesterday. Here's a reminder that the promo code expires tonight at midnight. This is a very popular deal so don't miss out! A lot of people have taken advantage of this promo code.
Groupon.com is offering a special extra 15% off promo code today!
You can save an extra 15% off one local Events & Activities deal on Groupon when you enter the promotion code PLAY15 at checkout! This offer is available for 2-days only from Friday, September 26 to Saturday, September 27, 2014 at 11:59pm PT.
Events & Activities deals include things like golf, fitness classes, shows & theatre, kids activities, paint-ball, martial arts, dance classes, etc… You'll find lots of amazing deals especially with the extra 15% off.
There's a limit of one code per customer with a maximum discount of $50. Hurry, only a limited amount of people can use the code so take advantage of the offer while you can!
This is a hot deal because most of the deals featured on Groupon is already discounted 50-95% off. You'll find lots of amazing deals with the extra 15% off.
Click here for a direct link to see all of Groupon's local Events & Activities deals near you.
Click here to view all of Groupon's latest deals.