Ebates.ca: Get 24% Cash Back at SHOP.CA + Free Shipping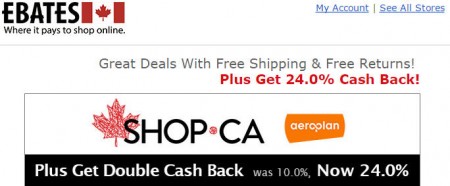 For a limited time, Ebates.ca is offering an incredible 24% Cash Back at Shop.ca! This is more then 2X cash back (normally 10%) on their regular offer! The great thing about this eBates Cash Back offer is it's in addition to all of the sales at SHOP.CA. The cash back offer excludes gift cards and can not be combined with other promotions/ coupon codes.
SHOP.CA offers 5X Aeroplan Miles on purchases + Free Shipping on all orders.
To take advantage of this offer, all you have to do is follow these steps:
Log into your eBates.ca account or sign-up for a Free Ebates account if you don't already have one.
After you login/sign-up for an Ebates account, search for "Shop.ca" on Ebates.ca to shop at Shop.ca.
Make a purchase on Shop.ca and Ebates.ca will mail you a cheque for 24% of what you spend!
Ebates.ca offers Cash Back at a lot of online stores. I have been using Ebates for a couple years and have received over $500 cash back. The site is legit. What Ebates does is split the commission that they get from the merchant and give you back half of it. The great thing about getting Cash Back from Ebates.ca is it's on top of any sales or deals from the merchant. The Cash Back is through Ebates.ca and will be added to your account once your purchase has been processed by the merchant, usually within 2 – 5 business days.
Here's more details about Ebates.ca if you've never heard of the site:
Ebates is the pioneer and leader of online Cash Back Shopping. In the summer of 2012, Ebates began international expansion with the launch of Ebates Canada, specifically designed by Canadians for Canadians. More than 500 online stores that ship to Canada have joined the roster of retailers to offer Cash Back, special deals, including free shipping, and coupons to members of Ebates Canada.

Joining Ebates Canada is always free – you'll never pay us for anything. Instead, four times a year or more, we'll pay you! We'll mail you a Big Fat Cheque, or transfer the money you earn to your PayPal account if you'd prefer. We can even send the money to your favourite charity. All 100% free.
Click here to sign-up for a Free Ebates account now or for more details about their website.
Click here to shop directly at Shop.ca or for more details about the sale (no 24% cash back).