Ebates.ca: Black Friday Sale – Get Double Cash Back at over 200 Stores (Nov 27)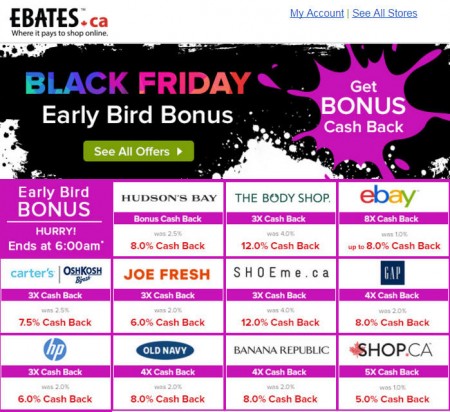 Earn Double Cash Back at over 200 stores during Ebates.ca Black Friday Sale! The 1-day sale ends at 11:59pmEST on Friday, November 27, 2015.
The awesome thing about getting Cash Back from Ebates.ca is it's on top of all the Black Friday sales from the retailer! This is a great way to save extra money when you shop online. If you don't have an Ebates.ca account – it only takes 15 seconds to sign-up for one. I have been using Ebates for about a couple years and have received over $1,000 cash back! The site is 100% legit. What Ebates does is split the commission that they get from the merchant and give you back half of it.
To earn cash back, all you have to do is go to Ebates.ca, find the retailer you want to shop at, shop and checkout as you normally do at your favourite website and earn Cash Back, There's no catch. The Cash Back is through Ebates.ca and will be added to your Ebates account once your purchase has been processed by the retailer, usually within 2 – 5 business days.
Here's more details about Ebates.ca if you've never heard of the site:
Ebates is the pioneer and leader of online Cash Back Shopping. In the summer of 2012, Ebates began international expansion with the launch of Ebates Canada, specifically designed by Canadians for Canadians. More than 500 online stores that ship to Canada have joined the roster of retailers to offer Cash Back, special deals, including free shipping, and coupons to members of Ebates Canada.Every time you shop online at your favourite retailers, you earn back a percentage of every purchase. From niceties to necessities, members of Ebates Canada save with discounts and Cash Back at top-name merchants for everything from furniture to fashion and appliances to airfare. Shopping with Ebates Canada is hassle-free: no rebate forms to fill out and no points or miles to redeem – just straightforward savings plus Cash Back.
Click here to shop Ebates.ca now or for more details.