GROUPON: Extra 20% Off Things To Do Deals Promo Code (Nov 25)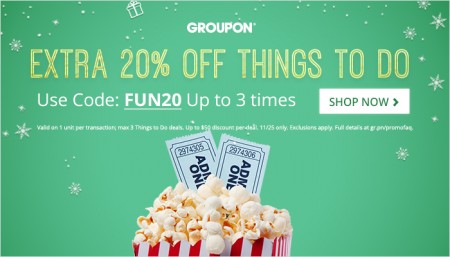 Groupon.com is offering a special extra 20% off promo code today!
Save an extra 20% off up to 3 Local Activity deals (Things To Do) on Groupon when you enter the promotion code FUN20 at checkout! The code is valid on up to 3 vouchers per customer! I've tested the code and can verify that it works. The code is valid on a single deal per transaction so you'll need to purchase each deal individually.
Things To Do deals include things like Golf, Paint Nite, Yoga Classes, Events, Fitness Classes, Music Lessons, Pottery Class, etc… Click here for a direct link to see all of Groupon's local Things To Do deals.
The promo code is available for 1-day only today (Wednesday, November 25, 2015) and will expire at 11:59pm PDT.
This is a hot deal because most of the deals featured on Groupon is already discounted 50-95% off. You'll find lots of amazing deals with the extra 20% off.
There's a limit of up to 3 codes per customer with a maximum discount of $50. Hurry, only a limited amount of people can use the code so take advantage of the offer while you can!
Click here for a direct link to see all of Groupon's Things To Do deals near you.
Click here to view all of Groupon's latest deals.