Air Canada: Flash Sale – 50% Off Wi-Fi Passes (Dec 1-2)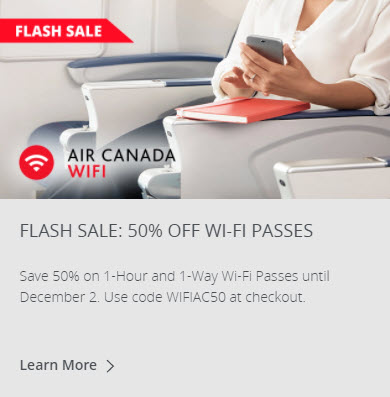 Air Canada is having a Flash Sale!
Stay connected in the sky for less—but only for a limited time!
Until December 2, 2020, save 50% off on 1-Hour and 1-Way Wi-Fi Passes on Air Canada and Air Canada Rouge flights.
Use code WIFIAC50 at checkout.
Buy before you fly. Save by purchasing Wi-Fi before your flight to Mexico, the Caribbean and within North America. Several options are available to you, from a 1-hour pass to subscription plans
Travel Tips:
Click here to visit AirCanada.com to book a flight now or for more details