Tim Hortons: $1 Smile Cookie (Sept 14-20)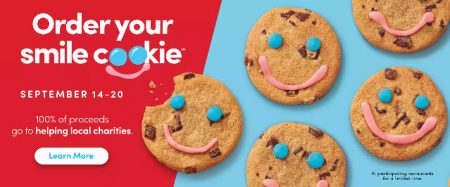 Tim Hortons' popular Smile Cookie promotion is back!
Purchase a Smile Cookie for $1 (plus tax) and 100% of the proceeds will be donated to local charities.
Smile Cookies are available for 1-week only from September 14 – 20, 2020. Get them while you can and support a great cause!
Buy a Smile Cookie, Help Support Local Charities
100% of proceeds from every Smile Cookie support charities in local communities.
To pre-order Tim Hortons Smile Cookies, complete this form and submit it to your nearest participating Tim Hortons Restaurant.
Click here to visit Tim Hortons website for more details.
Click here to find a Tim Hortons near you.